Hallelujah! Spring is Here Again, and It's About Darn Time!
It is finally starting to warm up outside and thank the heavens, 'cause I am sick of being cold and am ready to get outdoors to work (play) on my pond and garden.  I love this time of year, and not just because of the warmer weather and new flowers that are starting to come up, but also because Mud Monsters  gets lots of new toys to put on our shelves.   I thought I would point out a few of them to you.  Many are probably more interesting to gearheads like myself, but some of them are going to appeal to the more artistic types as  well.
For starters we are now carrying two brand new types of koi and goldfish foods:  Crystal Clear, and Microbe-Lift Legacy Foods.  Both foods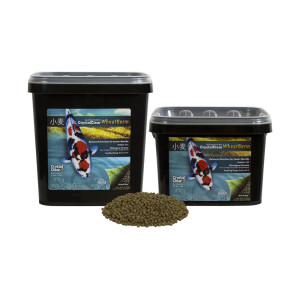 are high quality, high protein foods that come in attractive, durable, reusable containers.  Feeding better quality food to your pond fish means healthier, friendlier koi and goldfish with brighter colors and faster growth. You will also have less fish waste left in the water since more of the food is used for the nutrition of the fish.  The addition of these foods gives Mud Monsters, easily, the best selection of koi & goldfish foods in the state.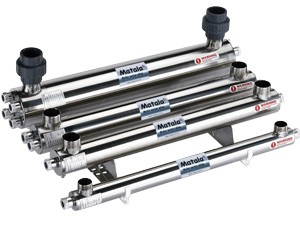 Next, we now have in stock the Matala Spectrum Stainless Steel UV Clarifiers.  These are awesome, solid, beautiful UV clarifiers that make my heart pound.  Granted I'm a pond nerd, and gear like this doesn't make everyone as excited as me, but the quality of these units are undeniable.  With one of these beauties hooked up to your pond you could definitely kiss green water goodbye forever.  The Matala Spectrum UV's come in sizes from 40 watts up to 300 watts and will clarify ponds from a cup of water up to 30,000 gallons.  If you come by the showroom I would be happy to show them to you and you can see me get excited like a boy with a new puppy.
Also,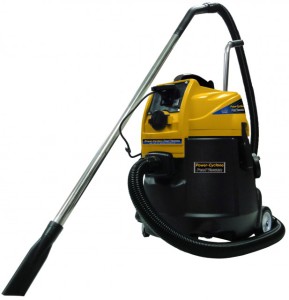 we have three (count 'em) new pond vacuums available.  Matala already offered the Pond Vac II, but now they are offering the Pond Vacuum Pro and the Power Cyclone Pond Vacuum.  The Pond Vacuum Pro is mostly a larger, more powerful version of their popular Pond Vac II and the Power Cyclone is simply a beast-of-a-pond-vac that is designed for pond professionals or very serious koi keepers.  The third new pond vac is made by a new company on the scene called PondMax.  It's the PondMax Ultra Pond Vacuum and, similar to the Matala vac, it is a very solid, easy to use vacuum with lots of attachments.
One item that is not yet available for a few weeks, but that I am very excited to see is a new Automatic Dosing System from Aquascape.  For those people who add treatments to their pond on a regular basis to control algae, sludge, or green water this could be a real headache reducer.  Basically you load the treatment that you want to add to your pond into the dosing unit, then you tell the dosing unit how much and how often to add that treatment to the pond and then you walk away and let it do your work for you.  Vacations or forgetfulness are no longer an issue.  Anyway, I haven't actually seen one of these in person but they are due into Mud Monsters around the end of March, so I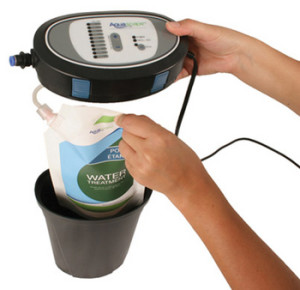 will be sure to post about how well they work when they arrive.
Just today we received some awesome new fountains.  The bubbling boulder fountains are a huge draw these days and we have some beautiful options, plus you may want to check out the new stainless steel "Cobra Fountains" or the basalt column fountains.
Anyhow, we have way too much to show you here.  Stop by sometime and have a look around.  We are always glad to see you!
Like Us on Facebook!