Aquaponics
For anyone interested in aquaponics, Mud Monsters should be your first point of contact. We are considered to be the top experts in the field of aquaponics within the state of New Mexico.
We are excited to be able to share with you our knowledge and experience in this new and quickly growing industry. If you are seeking to tap into the health and purity of nature in order to grow fresh and organic vegetables and herbs, then aquaponics is for you!
It is a well documented fact that having live fish inside your home is both calming and nurturing. It is equally true that fresh vegetables and herbs are infinitely better for your body and health. With aquaponics, you are deploying a system to harness both aquaculture and hydroponics to create and grow your own garden of health.
Whether you want to be a casual participant or if you become an aquaponics enthusiast, we will love to meet with you and keep you up to speed on all the latest developments and ideas. We see this practice as an emerging and cutting edge experience, with vast potential. There is already universal agreement that aquaponics is an excellent and natural alternative to other forms or organic farming.
About Aquaponics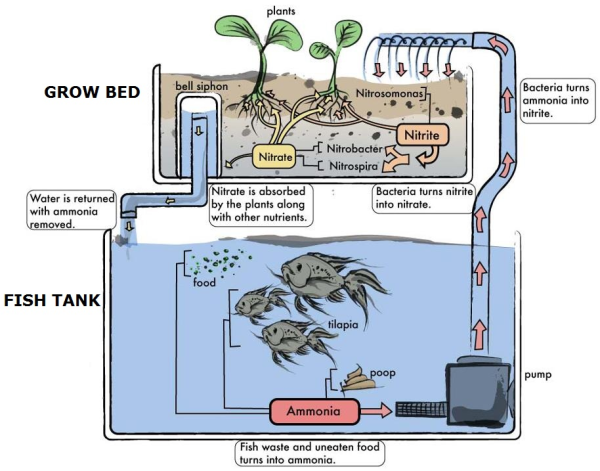 According to Wikipedia, aquaponics is "is a food production system that combines conventional aquaculture, (raising aquatic animals such as snails, fish, crayfish or prawns in tanks), with hydroponics (cultivating plants in water) in a symbiotic environment."
Yes, that is a mouthful, but it is perhaps the best summary of the value and efficiency of aquaponics. Actually, although a newly revived interest has brought the practice and concepts of aquaponics to the public eye, this is not some new age creation.
Aztecs have been credited as one of the original human cultures to discover and take advantage of the idea of employing aquaponics as an standard agricultural practice. Referred to as floating islands (or chinampa), a village-wide practice used the aquaponics concept to feed their citizens.
As you can see by the illustration above, in today's world we have refined this methodology to become both appealing and efficient for an individual to practice in their day to day life.
Like Us on Facebook!